B R E A K A W A Y

B O O K S
Click here to jump to the BOAT BOOKS, below. Click here to jump to the Jenny Hughes HORSE BOOKS. In memory of John Jerome, 1932-2002

~ Most of our titles are now available as e-books for Kindle, Nook, Kobo, Google Play, and iBooks. ~

What's new: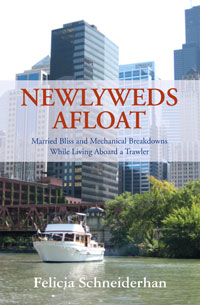 A young woman meets an amazing guy, falls in love, and they move in together. Straightforward enough, right?
Except he lives on a boat—a 38-foot trawler, docked in Chicago. Felicia Schneiderhan has a fine literary sensibility
and manages to be both funny and deeply serious in writing about boats and love and relationships.
This book will delight any boater, or any land-dweller dreaming of escape.
"

Newlyweds Afloat

is full of high-seas drama and flatwater reflection plus cats and lots and lots of heart.
I could not stop reading it."
—Julie Buckles, author of
Paddling to Winter
Paperback
Kindle
Nook
Google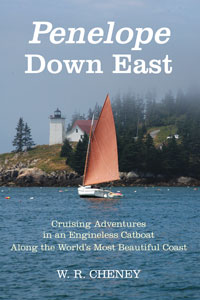 "This book is a keeper . . . a sailor's book written for sailors."
—Ned Hitchcock, Catboat Association
PENELOPE DOWN EAST: Cruising Adventures in an Engineless Catboat Along the World's Most Beautiful Coast
Paperback
Kindle
Nook
Google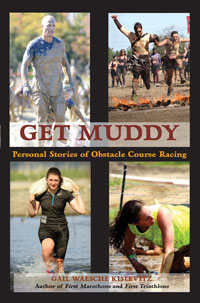 GET MUDDY: Personal Stories of Obstable Course Racing
This collection of dramatic first-person stories about the experience of competing in obstacle course races
will introduce ambitious athletes to the fast-growing new sport.
"Doing an OCR will make you feel alive again. We are naturally wired to run, sweat, and struggle a bit.
Get outside and get the juices flowing. You'll feel great!"
—Joe DeSena, founder, Spartan Race Series
Paperback
Kindle
Nook
Google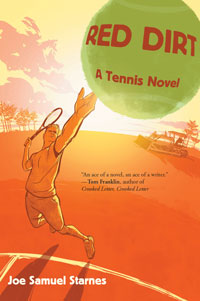 Red Dirt: A Tennis Novel, by Joe Samuel Starnes
"An ace of a novel, an ace of a writer."
—Tom Franklin, author of
Crooked Letter, Crooked Letter
Paperback
352 pages, $14.95 (discounted to $11.80 on Amazon)
E-book $8.99 >
Kindle
Kobo
Google
Nook
iBooks
Read more about

Red Dirt

here.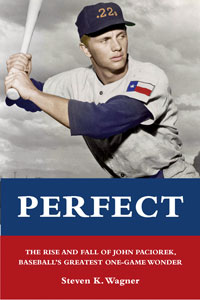 Recently featured on the Major League Baseball Channel!
Perfect: The Rise and Fall of John Paciorek, Baseball's Greatest One-Game Wonder
"A great book that captures the essence of baseball and every boy's dream: to play in the major leagues. The story of John Paciorek is the stuff of legends."
—Gary Adams, former UCLA baseball coach
Paperback
, 224 pages, $12.95 (discounted to $9.84 at Amazon and BN)
E-book $7.99
Kindle
Kobo
Google
Nook
iBooks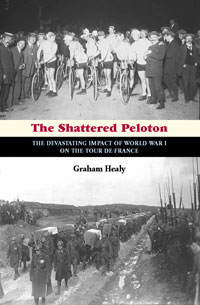 The Shattered Peloton: The Devastating Impact of World War I on the Tour de France.
A shocking, mind-boggling account of young athletes' lives snuffed out in the hell of war.
Paperback
224 pages, $14.95
E-book
$7.99:
Kindle
Nook
Kobo
Google
"As a record of achievement, loss, and unfulfilled potential, it's hard to think of another book that is as valid as this one is this year."
—
The Jersey Pocket
"A
feast of anecdotes
that also serves to shine a brighter light on the story of the Tour at war."
—Feargal McKay,
Podium Cafe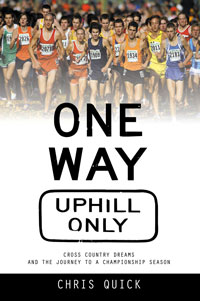 One high school cross-country team's pursuit of excellence, and their journey to the state championships.
352 pages, paperback, $15. Kindle edition, $7.99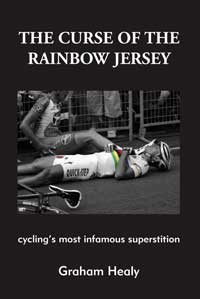 A fascinating look at the bad luck and tragedy that seem to follow the winners of cycling's World Chamipnship.
192 pages, paperback, $14.95. Kindle edition, $7.99.

Horse novels for readers age 9-12, from Jenny Hughes. Great fun, and a wonderful gift, for anyone who loves horses!
Paperback, $9.95 each Click here for a full page of Jenny Hughes books, including e-book links.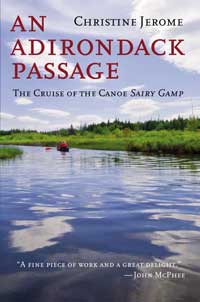 A paddling gem: tracing the route of Nessmuk, the 19th-century writer, through the heart of the Adirondacks in a tiny canoe.
"A fine piece of work and a great delight." —John McPhee. 320 pages, paperback, $14 Or Kindle edition, $7.99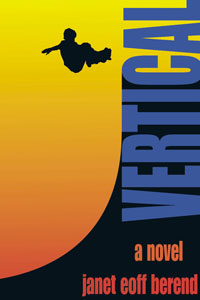 A skatebarding novel for grades 6-10. "I think Vertical is awesome! It felt like I was reliving the early years where
my passion for skateboarding was so new, fresh, and profound." —Danny Way, three-time X Games gold medalist
Vertical paperback $12.95, 128 pages. Kindle edition $8.99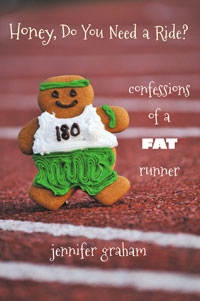 Honey, Do You Need a Ride? Confessions of a Fat Runner. The hilarious memoir of a fat runner in a skinny sport.
"Ultimately, it's not the size of the body but the size of the heart that counts. And this runner's heart is huge."
—Kristin Armstrong, mother of three, Contributing Editor for Runner's World, and author of Mile Markers: The 26.2 Most Important Reasons Why Women Run
Honey, Do You Need a Ride? Paperback $15.95, 232 pages. Kindle edition $9.99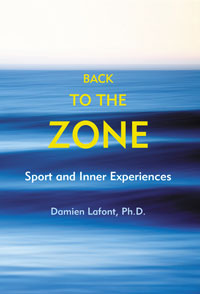 A guide for athletes in all sports seeking to enter "The Zone" more often, even at will. Fascinating reading for anyone who wants to optimize their sports performance.
Back to the Zone Paperback $14.95, 184 pages. Kindle edition $8.99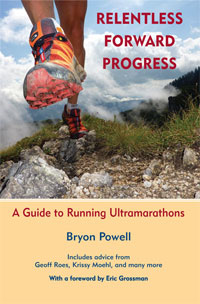 Relentless Forward Progress, the first practical guide to running ultramarathons. There's a lot to know, and it's all here.
Paperback, $14.95 (Amazon discounts it to $9.95 last time we checked.) Kindle edition, $9.99



Running books
Click on any cover image below to buy the (paper) book at Amazon.com.
If you see the word "Kindle" below the cover image, click on that to buy the Kindle edition.
(Some books we haven't converted yet.)






Exercise and the Mind Kindle Lola Papers Kindle







The Greatest Kindle Racing for Recovery Kindle First Triathlons Kindle







Thrill of Victory Kindle God on the Starting Line Kindle Runner's High Kindle

How Running Changed My Life Kindle Bannister and Beyond Kindle Running in Literature Kindle







Running Through the Wall Kindle Quotable Runner Kindle Women Runners Kindle

First Marathons Kindle Spirit of the Marathon Kindle The Other Kingdom Kindle






Runner and the Path Kindle Runner's Literary Companion Kindle

Becoming an Ironman Kindle Zendurance Kindle
Check out our new line of children's books:




(Bulk purchases of Happy Feet, Healthy Food and Kids Running are available for use in schools.
Contact carolgoodrow21ATgmailDOTcom, or Breakaway Books at the address below.)

Cycling:






Belgian Hammer Kindle Momentum Is Your Friend Kindle

Metal Cowboy Kindle Mud, Sweat, and Gears Kindle







Long Season Kindle Quotable Cyclist Kindle Bicycle Love Kindle
Various other sports:








Tennis and the Meaning of Life Kindle Caveman Politics Kindle

Toward the Sun Kindle Pigskin Rabbi Kindle Full Court Kindle Ultimate Kindle
Baseball: Swimming:
Golf:

And don't miss our boatbuilding and boating books.
It's a common affliction here at the offices of Breakaway Books, where someone is always
building a boat, or out sailing, rowing, or paddling (when not out running or cycling). . . .







Constant Waterman Kindle MoonWind at Large Kindle Working Guide Kindle Small Boats on Green Waters Kindle






Hell's Half Mile Kindle Eye on the Sea Kindle Cheap Outboards Kindle Flotsam and Jetsam Kindle

and a fine landscaping book by our wonderful literary author
Jeff (Perfect Silence) Hutton, who is a landscaper by day:




___________________________________________________

Submissions
Our e-mail address is breakawaybooks (type in the "at" symbol here) gmail.com
(Sorry to be so circumspect about it, but our old addresses got overrun by the spambots.)
Breakaway titles are available in bookstores everywhere,
and through Amazon and BN.com and other online sellers.

We offer bulk discounts to running stores, clubs, and other non-bookstore outlets.

Bookstores: We are distributed by the incomparable CONSORTIUM Book Sales & Distribution
Now part of Perseus Distribution, with our books shipping from the Jackson, TN warehouse.
For customer service, call (800) 283-3572 CBSD.com
And our titles are also available from Ingram, B&T, and other wholesalers.
OUR MAILING ADDRESS: Breakaway Books; P.O. Box 24; Halcottsville, NY 12438
_________________________________________________________